octobre 1968
01 octobre 1968
- Mitch and Noel s'envolent depuis Londres pour Los Angelès (U.S.A)
02 octobre 1968
- Jimi arrive de Los Angelès, et atterrit à l'Honolulu International Airport.
Dès son arrivée à Honolulu, Hendrix est interviewé par Wayne Haradapour le numéro du 3 Octobre 1968 de
The Honolulu Advertiser
.
Ensuite, le groupe s'installe dans une maison louée avec vue sur la mer. Pendant les soirées dans sa maison, Jimi en profite pour participer à des jams sessions avec un groupe local

Times Music Co
et entretenir des relations avec des groupies.
03 octobre 1968
-Mitch et Noel arrivent de Los Angeles et atterrissent à Honolulu Airport.
04 octobre 1968
- Le troisième album du J.H.E:
Electric Ladyland
(double LP) est publié aux Etats Unis - Reprise Records 2RS 6307
Selon
Mike Finnegan
, Hendrix lui aurait dit en plaisantant:
"Nous allons jouer un shuffle lent en Ré. Tu seras Jimmy Smith et je serai Kenny Burrell."

- (Rainy Day Shuffle)
- Séance de photos avec Ron Raffaelli, Hawaï:
voir
Ron Raffaelli
s'est aussi essayé dans les photos érotiques.
05 octobre 1968
- HONOLULU INTERNATIONAL CENTER, HONOLULU, ISLAND OF OAHU, HAWAÏ -
C'est dans l'ensemble un bon spectacle. Noel fait un joli solo de basse dont il est assez fier. Durant le concert Jimi s'inquiète du public :
« Asseyez-vous! Et oubliez tout ce qui s'est passé aujourd'hui. On va prendre soin de vos oreilles, on va essayer de ne pas jouer trop fort… »
1.The Sunshine Of Your Love
2.Come On(Part I)
3.Hey Joe
4.I Don't Live Today
5.Foxy Lady
6.The Star Spangled Banner
7.Purple Haze

Après le concert du Honolulu International Center, Jimi invite tout le monde à se rendre à Thomas Square pour assister à une jam-session pendant le Art-Park Festival.



Jimi accompagnée de Kathleen Paulson

La liste des chansons est inconnue.



- Jimi à la guitare et Mitch à la batterie, avec Dale Enders à la basse et David Lovatto à l'harmonica pour cette jam-session.

Au début il n'y a qu'une dizaine de personnes réunies autour d'une fontaine asséchée. Puis tout le monde se passe le mot et finalement 2.000 personnes assistent à une magnifique jam de blues
où Jimi, loin de vouloir prendre la vedette, laisse l'harmonica jouer le solo ...
Et pour rendre ce moment un peu plus magique, dans le ciel une magnifique éclipse de lune .…Le genre de spectacle qu'on n'oublie pas de sitôt ...
Et totalement gratuit en plus! Tout a été joué avec le matériel des jeunes ... Et "malheureusement" pour eux, Jimi ne ménage pas les amplis (les seuls qu'ils ont)
et fracasse la guitare par terre avant de partir, une guitare qui appartenait à un des frères du groupe qui a regardé le show, il a été horrifié de voir ce que Jimi venait de faire.





- Radio Interview - Honolulu, 1701 Ala Wai Boulevard, station "K-POI"
- Interview en direct avec Jimi et Mitch conduit par Harvey Weinstein. Jimi descend en flamme le jeune disc-jockey qui tente désespérément de l'interviewer (c'est sa première interview!)
Une fois Jimi parti, Mitch lui explique qu'il fait cela avec tous les disc-jockeys et qu'il n'y a rien de personnel. C'est juste une sorte de jeu pour lui…





6 et 7 octobre 1968 - Séance de photos avec Ron Raffaelli

« Ile de Maui, l'Experience participe à une série de séances photos avec Ron Raffaelli pour le compte de A Visual Thing. Là où Jimi Hendrix fut le premier artiste à reconnaître pleinement
l'intérêt de contrôler chaque aspect essentiel de sa musique de la production et la promotion de ses propres tournées à l'équipement des salles de concerts avec du meilleur matériel pour
améliorer ses spectacles – il reconnut aussi l'importance de son image dans l'optique de sa commercialisation. En conséquence, le manager de Jimi, Michael Jeffrey, utilisa
A Visual Thing, la société de Jerry Goldstein connue pour avoir géré différents tops artistes à travers le Royaume Uni, pour produire et commercialiser un choix de posters et par la suite
des programmes de concerts pour le grand public. Les spectaculaires photos de cette session et d'autres prises sur l'île et de retour en Californie furent utilisées pour différents produits d'édition »

Sources

Jimi Hendrix: Electric Church/A Visual Experience, programme-livre pour la tournée de 1969, réalisé avec les photos de Ron Raffaelli. Édité par The Visual Thing Ltd,
qui commercialisait des posters en Californie.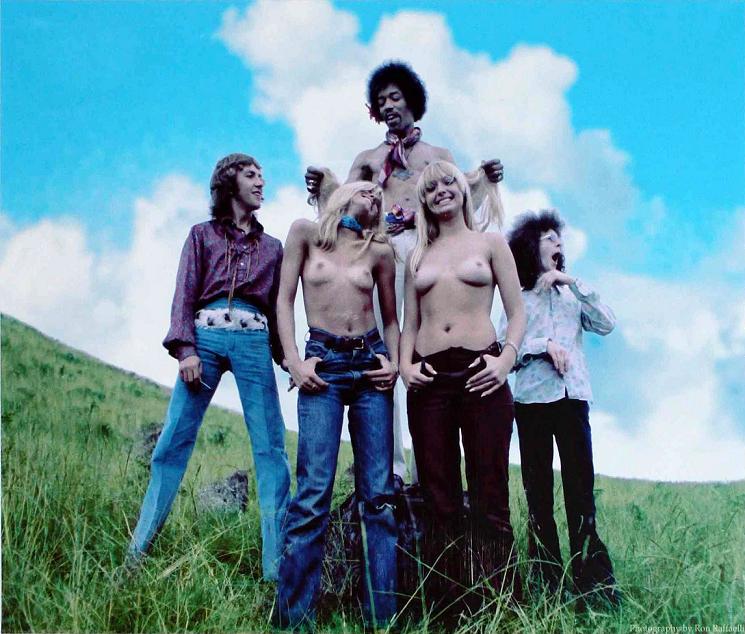 Cette jolie jeune fille blonde, qui a été longtemps surnommée Cathy. Nous savons maintenant qu'elle s'appelle Kathleen Paulson




La scène de la photo de droite, Jimi qui caresse le museau du cheval noir, elle apparaît sur le bas-ventre de Jimi, (observez la photo ci-dessous)
c'est une photo de l'un des concerts (jam-session au Thomas Square 05 octobre 1968), peut-être un travail de studio réalisé par le photographe Ron Raffaelli:




La séance de photos du groupe se poursuit avec le photographe Ron Raffaelli. Jimi et Ron Raffaelli sont victimes d'un accident de la route.

Jimi était un très mauvais conducteur, il échappe de justesse à la mort à bord de sa nouvelle Corvette Stingray.

Jimi s'en tirera avec quelques égratignures à l'oeil gauche.




voir ce site : Lost Star Cars: sur les Corvettes de Jimi Hendrix

Billy Cox se rappelle que le légendaire guitariste était une sorte de chauffard. Une balade à travers Manhattan dans la Corvette argent de Jimi pouvait être une expérience terrifiante.
"Nous allions en studio vers 20h", se souvient Cox, "et beaucoup de fois nous n'étions pas sorti jusqu'au lendemain midi. Et quand nous sommes sortis du studio,
Jimi avec sa guitare et moi avec ma basse ... comme la Corvette était un biplace. Jimi a mis sa guitare dans le dos. Nous sommes allés à travers la circulation, et je veux dire,'
Oh, Seigneur, tu vas rentrer dans quelqu'un! Il m'a fait peur. Je suis enfin sorti et à l'hôtel et j'ai dit: "Ouf, mec! j'ai réussi, je suis sain et sauf."

- Honolulu sur l'ile de Oahu. Jimi fracasse un buggy de plage loué.




Voici un témoignage de Patrick Smith:

Lost Star Cars: The Jimi Hendrix Corvettes -Slight Reprise

Several years ago, I did an article on Jimi Hendrix's two Corvettes. Some better information has come alight since the original article from 2011. Consider this the Jimi Hendrix's Corvettes
-Slight Reprise; a nod to his Voodoo Chile Slight Reprise song. It is a revised account with corrections and additional new information which has come to light from contacts who read
the original story. In fact, two new fronts of investigation have opened up. This article covers the Corvettes; another one covers the Hawaii angle which turned out to be a surprise
all on its own.
Some stars just don't mix well with cars. When you're a young musician and the career is taking off, loads of time is gobbled up doing performances, interviews and touring.
Leisure time is scarce and that means not much of it to enjoy cars. However, James Marshall Hendrixm known world wide as Jimi Hendrix did own a muscle car. It was a 1969 Chevrolet
Corvette coupe. In fact he owned two of them. More on that later. It was 1968 and the Jimi Hendrix Experience band was on tour of America promoting the album. Jimi was in Cleveland,
Ohio when he went new car shoping. I'll let Mitch Mitchell, his drummer, describe the scene for us. "In the afternoon, Jimi, Noel went out with our publicist, Mike Goldstein who was a
local lad and knew the neighborhoood car dealers. He took Noel and Jimi out to order their first cars. It was the first time we'd actually had any money to spend. Jimi ordered a Stingray
and Noel ordered a Mercury Cougar which he never took delivery of. The Corvette was a 1969 coupe finished in LeMans Blue Metallic paint. Leon Dicker, attorney for Yameta,
Jimi Hendrix's music company at the time, recalled that Jimi didn't have a driver's licence and when he was caught driving down a one way lane the wrong direction by a cop, he was fined
for the infraction and not having a licence. Since Jimi had to go to Indiana for a concert, the fines and shipment of car to New York City was handled by management. Jimi didn't really get
to drive his car until the end of his tour in October. By that time, the band was based in a nice rental house in Benedict Canyon above Los Angeles. A roadie was summoned to drive the
Corvette to LA in an banzai run. Hendrix arrived at the rental house September 16th, 68. Mitch continues the narrative, "One Saturday night we went to see Cream and had a part that
didn't break up until five am and at about seven I'd just gone off to sleep. I'd heard Jimi's voice, 'guess what, I just crashed my car.' I thought I was dreaming and went back to sleep.
Several hours later I discovered it was true, How the hell he survived, I've no idea. He'd completely demolished the car. Luckily he'd turned right and gone into some rocks. If'd he'd turned
left he'd gone straight over the edge of the canyon, a 300 foot drop."

Hendrix in a Corvette, this would be his replacement ride, not the first car. Mitch's story checks out except for the date. Since Cream played Oakland California on October 4th and a
party was held afterwards, the car would've perished on October 5th. One problem is that Oakland is across the bridge from San Francisco which was 200 miles away from LA.

Cream's farewell tour also shows the band playing at Inglewood in LA on October 18th and 19th. The Corvette had to be totaled on one
of those dates. There's another reason it had to be then. From October 1-16, the band was in Oahu, playing concerts and doing promotional work.
Another completely different story of Hendrix's first Corvette has made the rounds but it is suspect on a couple of details. Famous photographer, Ron Raefaelli, was with Hendrix in Maui,
Hawaii. Rafaelli claimed Hendrix crashed his car there. The Experience did play dates in Honolulu and vacationed in Maui but they were only there for two weeks. It's unlikely the car was
shipped to Hawaii for two weeks only to be sent back when the band continued to tour.Thanks to extra research and a contact in Honolulu, we can verify the car cracked up in
Hawaii wasn't a Corvette, but a dune buggy. More on this story soon.

This is the VIN and licence plate registration of Jimi's totaled Corvette.We now know both cars were 1969 models. The blue Corvette was totalled and the VIN
number of that car is now known. A registration envelope addressed to James Marshall Hendrix had been mailed to his Benedict Canyon address but was never opened and it appeared
on eBay auction decades later. The VIN number of the car can be clearly seen on the back. That VIN number is 194379S701311 with licence plate XWN 099. As you can see it was a
rather early production car. We also have an account of the alleged car's dismantling at an LA wrecking yard submitted by Roy Elliot from San Bernardino to the author.

Here is his account. 10/07/2015 "Hi, a friend at one of our cruise nights told me about your story on the Jimmy Hendrix Corvettes. I read it because I worked in a compound yard in the 1960s,
handling cars hauled off the highways and city streets of Los Angeles as abandoned, accident damaged and vandalised cars. One section of the compound just kept totals and those were
parted out and sold through the building out back. Most of the yard was just storage space used for Police contracted tow truck drivers to hold vehicles until paperwork was done to move
them out...either to the owner's place, a shop for repairs, or in many cases just a few hundred yards East to the wrecker yard. One day, I got in at 8 and saw a blue Corvette coupe that
was mangled pretty good on both sides. The driver side fender and door was smucked. The passenger side was just shredded fiberglass. The front wheels didn't even sit straight.
It caught my eye because it was new and the only place I saw new Vettes were downtown near Wilshire and Sunset or up in the ritzy 'burbs like Brentwood or Malibu. Only word I got on
that car was someone from the Canyon area drove into a wall going downhill too fast. A few weeks later, two guys from high school were climbing inside and around the doors trying to
lever the hood open. It was stuck quarter way but wouldn't budge from the damage. I asked if they needed help. The older looking guy said they made a deal in the office to buy the engine
and transmission and wanted to look it over to see what needed replacing. The older guy was tall skinny blonde with crew cut and owned a 30's hot rod.... wanted to use the engine and tran
to power it. I told him to wait a sec while I get a cutting wheel to rip open the hood. I got the cutting wheel, made em move back while I zipped the hood off the car. They were all over that
engine in minutes, making list of busted parts and any cool stuff they could use. They seemed pretty happy with what was there. The older blonde hassled the office to get a SOLD tag on
the engine and trans so they wouldn't be parted out to someone else. I worked elsewhere the rest of the day. Next morning, I showed up and they were already at the car with tools.
They used one of our pickers to lift the block out. It was in the bed of their pick up by mid morning and they were gone by 11. The rest of the car was crushed. Can't say for sure if it was
Jimmy's car but the pick up address for the tow came from the Canyon area. Car didn't have licence plates on it. Car was there maybe a month, tops. That place sawed up a lot of cool cars.
Even got some S Shelbys and Maseratis a few times. Thought you'd like to know." Roy
aftermarket cassette player from Japan was installed in Hendrix's car. He was ahead of the curve in music technology as most cars used 8 track players. Phillips hadn't convinced many music
companies in cassette reproduction of albums. It was strictly a dictaphone deal to them.

I wrote back to Roy to ask details but he hasn't replied. What's interesting about this story is it can be confirmed if someone beats the bushes checking old street rods with 350 Chevy engines for
a Vette serial number. If it matches the one printed above Roy's story, the first Hendrix Vette engine would be found. That may well be all that's left of it! Let's look now at Jimi's replacement
Corvette as it is more likely to have survived the passage of time. We also have fresh information about it. New Information!: Hendrix's replacement vette was a Cortez Silver coupe with a
350 small block V8 and automatic transmission. Inside was a molded steering wheel and an aftermarket Japanese cassette player. The interior color could have been a number of colors.
From I can see of the picture, I believe it was either black, gunmetal silver or blue vinyl. Musician Al Marks, recalled moving Hendrix's second vette from a no parking zone to somewhere
on the Record Plant's property one night when Hendrix was there recording tracks for Electric Ladyland. "I was scared to move his car because I couldn't drive a stick shift.
However, it was an automatic and the passenger seat was littered with cassettes for the player in the dash." Hendrix lived in New York City in 1969 when he wasn't touring.
He drove it around town and later in the summertime he moved to a secluded house in Shokan, New York where he rehearsed a band to perform at Woodstock Music Festival.
He also was seen driving the car in Harlem for the Harlem Street Festival where he played a benefit concert.
After August 1969, Hendrix went on tour again to pay for mounting bills related to the construction of Electric Ladyland Studio, his dream project. We now have information from long time NY
Woodstock resident, Leslie Aday who worked for rock manager, Albert Grossman about Hendrix's replacement Corvette. According to Leslie it was a red convertible. Leslie asserts that no one in
Woodstock drove any such car and that it stood out like a sore thumb. Most residents were more into the organic vegetables and making their own clothes trip. Well, this is an interesting observation.
I'd like to be able to discount it but Buddy Miles, one of Hendrix's close friends and drummers also said it was a convertible and recalls cruising with Jimi Hendrix near the beaches looking over girls.
I contacted Rockman about this development and also talked to him about any leads on the car supposedly sold in Staten Island from the Eveready Carb Reman company. Nothing new there.
Rockman is excited about this new info and is returning to the trenches to dig harder. His second Corvette was metallic silver in color and spent time in Shokan and New York City in 1969-1970.
Car was last seen in public at Harlem Music Festival in 1969. Hendrix died in London on Sept 17th, 1970 after an arduous European tour. The car was sold by his manager, Micheal Jeffreys to pay
off massive bills owing against the Hendrix Estate related to construction. Hendrix's NYC apartment was whisked clean of personal effects within two days of his death. There is a strong chance this
Corvette still exists today. I have shown a 1968 vette in Cortez Silver above for reference. Hendrix's interior appears to be either black or dark gunmetal. His car would also have the Stingray script
and 1969 door handles. To recap, it was Cortez Silver with automatic transmission, a/c, tinted glass, 350 V8 engine molded steering wheel with some kind of dark color vinyl interior. The original
windshield will have a parking permit dated 1969 and 1970. A good title search could turn up this car if you knew which company name it was registered under. It could be Bella Godiva Music,
Yameta Music Corporation, Yameta Publishing or Micheal Jefferys. Seeing as to how quickly the apartment and personal effects were seized as well as the general murkiness of Micheal's overseas tax
dodge set ups, Jeffrys likely owned the car on paper. Hendrix never got actual royalty checks when he was alive. He just contacted Yameta Corporation for cash on major purchases and sent all bills
to same.

Update: Possible Jimi Hendrix Corvette found??? I got an email from a car owner in New York State asking a lot of questions about Jimi's last Corvette, the silver one. Curious of the line of
questions I asked him point blank, "do you think you've found it?" He admitted he wasn't sure by any means but was hopeful. The car he has is Gunmetal Gray interior, a 350 V8 an automatic
transmission with aftermarket tape player. His registration ownership listed some one whose name isn't connected to Jimi Hendrix as far as I know. From there the trail goes cold. Farthest he can
go back on ownership is in 1974. It is a factory silver/grey interior car and is said to be numbers matching but needing a rebuilt engine and transmission from sitting so long. There was an apartment
parking decal on the windshield but is long gone. Currently the owner and I are looking into the age and model of tape player to see if it's a unit installed when car was new as it would have to be
when Jimi was alive, or a later 1970's unit. I have urged him to contact shark era Corvette experts to help him with any paperwork he has. If he can find a build sheet or some document telling him
the selling dealer, that would go a long way to answering his questions. It sounds as if it's mostly original, the tires and rad hoses being the only noticeable changes. He believes it hasn't been
repainted. I have doubts it is Jimi's car A false lead: Two years ago I've heard from the owner of a possible Jimi Hendrix Corvette and this time he sent me a pic of the data plate. This particular
car was built too late to be Jimi's actual car. By the time this one left St Louis, Jimi was already seen at the Harlem Music Street Festival with his car in the summertime. So while it's not happy news
for the owner, he still has a desirable Stingray. Oddly enough, his Japanese tape player is an old unit, assembled in summer of 1968. The search goes on.
A new update on Hendrix's Silver Corvette!
and about the car wreck in Hawaii: Things are picking up. A break came today in the search for Hendrix's Lost 1969 'vette. A contact in New York State told me a very interesting story about
the silver vette and what may have happened to it after Jimi's sudden death in England. What we know so far is Michael Jeffreys cleaned house tout suite, basically emptying Jimi''s New York City
apartment and contents within 48 hours. As Jeffreys perished in a private plane crash in the mid 1970s, any leads from him are impossible. However, we now have an idea what happened.
This happened very soon after his death. To pa67smith@yahoo.com Jan/ 31/ 2016 at 6:40 PM

"I can tell you more about Jimi Hendrix's corvette. At the time of his death, I was working for an
auto electric company, Eveready Carburetor was the name. They were located in Great Neck, Flushing New York. My boss, Albert Abney bought the corvette from Head limousine in Manhattan.
They must have bought it from his manager whom you said sold it real fast. To me, back then, it looked like it was silver metal flake, it was blinding in the sunlight. I took a ride in it, my first in a vette,
in exchange, my boss drove my '66 Harley Davidson chopper. I felt honored because I was a fan of Jimi's. Loved his music then, still do. My boss offered to sell it to me, but I was pretty poor at the time
and couldn't do it. I forget what he wanted for it. Anyway, my boss knew an owner of a Chevy dealer who took the car in and under warranty replaced the small block with a 454 big block.
He then sold it to someone in Staten Island. Believe me, it was Jimi's vette. I even took 2 of the hubcaps and exchanged them for hubcaps I had on my 1955 Chevy, It had vette wheels on the rear and
they were the same. I have no proof of this, but I know for myself, that's all that matters. Hope this helps." Rich Vignola
There are a couple of issues to deal with. Usually you replace an engine under
warranty with the same type power plant. One has to wonder if the original warranty would even apply so late in the year? Hendrix passed away late in 1970, the car was in action before summer
of '69 making it a year old and out of coverage before he died. We do know New York City and surrounding neighboring cities were a hot bed of street racing activity and it seems possible this car
joined the ranks of the interconnecting highway street racing fraternity following a 454 install. I talked to RockMan in Astoria and when I vented my doubts about a big block swap he said,
"it's possible, it was a very hot competition scene back then. L88s were impossible to get already so 427s and 454s were on with Chevy nuts." Rockman is combing Staten Island, Yonkers and
Long Island areas for possible leads. Meanwhile you Hendrix 'vette searchers had better adjust your search into the New Jersey, New York City areas and start asking questions about big block
swapped vettes. I've done some follow up inquiries with this contact and will add to it when answers are forthcoming.
The Hawaii car total was just a VW dune buggy. Jimi refused to wear glasses
in spite of being blind as a bat. He's borrowing Leon's specs here. The real mystery is how this guy became a Screaming Eagle airborne paratrooper with such poor vision? The Hawaii car
total: It was mentioned in some accounts that Hendrix totaled a Corvette while vacationing in Hawaii. It was only described in passing in some accounts as a sports car.Somehow the passage
of time grew that into a Corvette. After intense research, the focus clears up. The car in question was a VW dune buggy A whole new front has opened up thanks to a solid contact in Honolulu,
we may have a new find to deal with. Stay tuned. *Article copyright 2011 by Patrick Smith Pics by PHS Media Archives. Posted 10th May 2012 by Patrick Smith






08 octobre 1968 - Le J.H.E s'envole de l'aéroport international d'Honolulu sur l'ile de Oahu vers Los Angelès Airport…

Concerts organisés par Bill Graham du 10 au 12 octobre 1968 L'Experience joue 2 shows chaque jour au Winterland de San Francisco. Les six concerts ont été enregistrés professionnellement.
Wikipedia

Les six concerts donnés au Winterland en octobre 1968 auraient pu donner matière à un live de The Jimi Hendrix Experience, si le groupe ne s'y était pas opposé à la réécoute des bandes.
Il faut attendre le début des années 1980 pour entendre 5 titres de cette série de performances sur The Jimi Hendrix Concerts produit par Alan Douglas.

Ce dernier utilise en 1987 le reliquat de ce qu'il estimait publiable pour compiler un double album relativement court : le Live at Winterland .




Pour ouvrir la première soirée : Buddy Miles Express et Dino Valenti.



Bill Graham producteur et promoteur des concerts du Winterland

10 octobre 1968 - Winterland de San Francisco.

premier show




1.Are You experienced ?
2.Voodoo Child (slight return)
3.Red House
4.Foxy Lady
5.Like A Rolling Stone
6.Star Spangled Banner/Purple Haze

second show




1.Tax Free
2.Lover Man
3.The Sunshine Of Your Love
4.Getting My Heart Back Together Again
5.Killing Floor
6.Hey Joe
7.Star Spangled Banner
8.Purple Haze

11 octobre 1968 -Winterland de San Francisco.




premier show




1. Are You Experienced, Virgil Gonsalves - à la flûte, Buddy Miles Express.
2. Voodoo Child (Slight Return)
3. Red House
4. Foxy Lady
5. This Is America (Star Spangled Banner)
6. Purple Haze

second show




1. Tax Free
2. Spanish Castle Magic
3. Like A Rolling Stone*
4. Lover Man*
5. Hey Joe*
6. Fire*
7. Foxy Lady*
8. Purple Haze



* Herbie Rich (Buddy Miles Express) est à l'orgue Hammond.

12 octobre 1968 - Winterland de San Francisco.


premier show - voir les photos

1. Fire
2. Lover Man
3. Like A Rolling Stone
4. Foxy Lady
5. Bass/Drum Jam
6. Tax Free*
7. Hey Joe
8. Purple Haze
9. Wild Thing

second show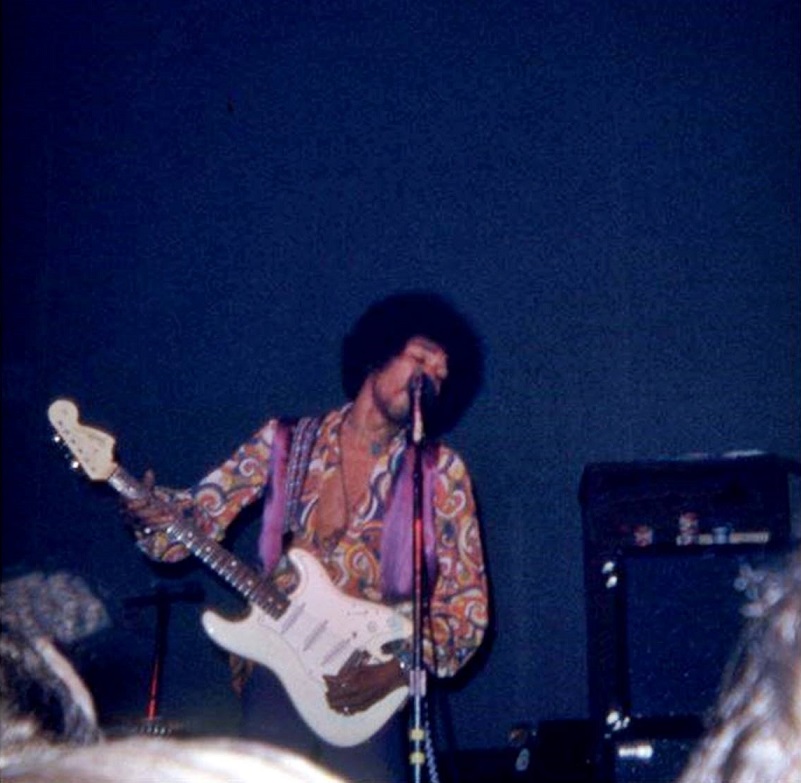 1. Foxy Lady
2. Manic Depression
3. Sunshine Of Your Love
4. Little Wing
5. Spanish Castle Magic
6. Red House
7. Voodoo Child (Slight Return)
8. This Is America (Star Spangled Banner)
9. Purple Haze

15 octobre 1968 - Retour à Los Angelès, l' Experience écoute les enregistrements du Winterland.

16 octobre 1968 - Los Angelès, Californie. Jacoba Atlas interviewe Jimi Hendrix à Benedict Canyon (Hollywood)

16 octobre1968 - Electric Ladyland, (Reprise Records, États-Unis, catalogue: 2RS 6307)


18 octobre 1968
- Le single
All Along The Watchtower / Long Hot Summer Night
est publié en Angleterre sur
Track Record :
- T.T.G Studios, Hollywood, 1441 N. McCadden Place - Enregistrements:
Izabella, Messenger
Noel Redding :

"Mauvais studio... Nous jouions une (?) chanson dans toute la soirée. Ils m'ont rendu fou par les 2.000 prises.
J'étais toujours d'avis qu'on pouvait en faire 3, puis ensuite les mettre de côté pendant un certain temps"
- Jimi participe à une jam-session avec Jack Bruce, bassiste du groupe
Cream
19 octobre 1968
- Los Angelès - Forum - Jimi et Mitch assistent au concert d'adieu de
Cream
au Fillmore West à San Francisco.
Plus tard dans la soirée, Jimi participe à une jam-session avec Lee Michaels orgue, Mick Cox (guitariste Eire Apparent) au
Whisky A Go Go
à Los Angelès, après une fête à Benedict Canyon.
Lee Michaels (organiste)
Jimi est victime d'un accident de la route à bord de sa
Corvette Stringray
. Jimi est un très mauvais conducteur.
Gerry Stickells
Mitch:

"Un samedi soir nous sommes allés voir le groupe Cream. Puis après, il y eut une party et sur le retour vers la maison. La fête s'est terminée aux environ de cinq ou sept heures.
Quand je suis allé me coucher, j'ai entendu une voix :

"Devinez quoi, je viens d'avoir un accident avec ma voiture, je pensais que je rêvais je me suis endormi au volant."

Plusieurs heures plus tard, j'ai découvert que c'était vrai. Comment diable Hendrix a t-il survécu ? Je n'en ai aucune idée, il l'avait complètement démolie.
Heureusement qu'il avait tourné à droite. S'il avait été à gauche, il serait allé tout droit vers le bord du canyon et fait une chute de 300 m".

20 octobre 1968
-
Messenger
est enregistré aux studios du Sunset-Highland.
21 octobre 1968
-
Calling All Devil Children
et
Hear My Freedom
sont enregistrés aux studios du Sunset-Highland.
Lee Michaels et Buddy Miles
participent à cette session d'enregistrements.
C'est la première fois que l'on voit Jimi en photo, avec une guitare
Gibson SG
blanche.
22 octobre 1968
-
Mr Lost Soul
et
Look Over Yonder
(alias
Mister Bad Luck
) sont enregistrés aux studios du Sunset-Highland.
Jimi et Mitch participent à une jam-session avec
Carol Kaye
à la basse
.
Mitch:
"Jimi et moi avons jammé avec Carol Kaye, la bassiste qui a fait beaucoup de séances avec la Motown après avoir déménagé à Los Angelès.
Elle était brillante, ça m'a mis sur le cul
"
23 octobre 1968
-
Introduction
et
The New Rising Sun
sont enregistrés aux studios du Sunset-Highland.
24 octobre 1968
-
Peace
,
Peace In Mississippi
,
Peace Jam
et
Here He Comes
sont enregistrés aux studios du Sunset-Highland.
C'est la première session connue où Jimi utilise une Fender Stratocaster noire.
Ron Raffaelli:
This was at Chris Andrews apartment in Los Angeles. Chris was my best buddy, we attended Art Center School Of Design together.
He is also the brother of Julie Andrews.
C'était dans l'appartement Chris Andrews à Los Angeles. Chris était mon meilleur ami. Nous avons étudié ensemble au Art Center School Of Design.
Il est également le frère de Julie Andrews.
25 octobre 1968
- Jimi joue de la basse avec Robert Wyatt sur
Slow Walkin' Talk
, enregistré aux studios sur Sunset-Highland.
Peut-être que cette photo pourrait provenir de la session d'enregistrement avec Robert Wyatt ?
- Electric Ladyland -
(3ème album du JHE) - Track 613 008/9 (GB) - Reprise 2RS 63 07 (USA)
Les choristes des Sweet Inspirations et Dave Mason participent aux sessions d'enregistrements.

Lire la critique du forum français


voir:
photo de David Montgomery
26 octobre 1968
- CIVIC AUDITORIUM, BAKERSFIELD, CALIFORNIE -
(la liste des chansons est inconnue)
- Jimi achète une Corvette Cortez Silver.
-
Jimi et les Corvettes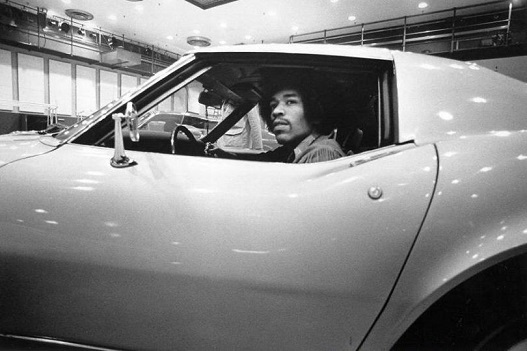 28 octobre 1968
- Deux guitares de Jimi sont volées. Jimi obtient les documents pour sa Corvette Stingray.
- Documents de la Corvette
29 octobre 1968
-
Here He Comes
et
Red House
sont enregistrés aux studios du Sunset-Highland. Lee Michaels (orgue) participe à l'enregistrement de Red House.
Jimi participe à une interview par téléphone avec Alan Welsh pour
Melody Maker
, publié le 9 Novembre 1968.
Harvey Gerst
Ingénieur du son des studios TTG
Harvey Gerst a participé à la conception de la guitare Acoustic Black Widow. Il est intéressant de noter que Jimi Hendrix était une personne qui aimait cette guitare.
Comme Harvey l'a dit:

"J'ai rencontré Jimi à l'aéroport d 'Oakland et je lui ai demandé" Aimez-vous la Black Widow? " Il a dit:" Je l'aime! C'est ma guitare de studio.

"Lisez l'histoire, elle vous épatera: jimi-hendrix-and-the-acoustic-black-widow




Ecoutez Harvey Gerst jouer de la guitare Black Widow

Harvey Gerst à propos de Hendrix à la Black Widow
:
voir le site internet
30 octobre 1968
-
Let Me Stay
,
Magic Carpet
,
Morning Glory
,
Mr Guy Fawkes
et
Yes I Need Someone
,
tous ces titres sont enregistrés aux studios du Sunset-Highland avec Jimi lors d'une session avec Eire Apparent.
31 octobre 1968
-
Captive In the Sun
et
The Clown
par
Eire Apparent
tous deux disposant de Jimi à la guitare et enregistrés aux studios du Sunset-Highland.