janvier 1970



01 janvier 1970 - jam-session au Club Ungano, New York City avec Elvin Bishop (guitare) et Buddy Miles (batterie)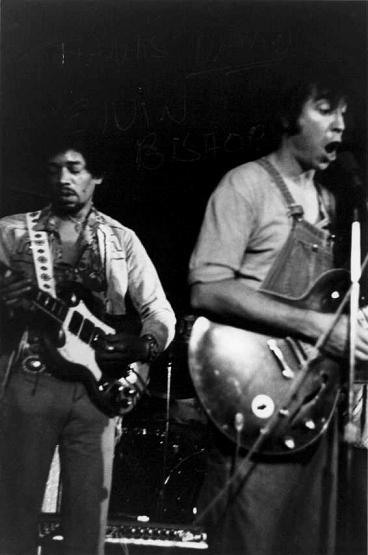 01 janvier 1970 - FILLMORE EAST, NEW YORK CITY -2-




1er show




1.Who Knows?
2.Machine Gun
3.Changes
4.Power Of Soul
5.Stepping Stone
6.Foxy Lady
7.Stop
8.Getting My Heart Back Together Again
9.Earth Blues
10.Burning Desire
11.Purple Haze

Second show




1.Stone Free/Little Drummer Boy
2.Changes
3.Power Of Soul
4.Message To Love
5.Earth Blues
6.Machine Gun
7.Voodoo Child (slight return)
8.We Gotta Live Together/Sing A Simple Song
9.Wild Thing
10.Hey Joe

02 janvier 1970 - Interview, Jimi Hendrix du New York Post par Alfred Aronowitz




07 janvier 1970 - Studios Record Plant, NYC - Enregistrements: Mannish Boy - Stepping Stone- Cherokee Mist

14 janvier 1970 - Studios Juggy Sound, New York City, Jimi et Eddie Kramer commencent à travailler sur les enregistrements des concerts du Band Of Gypsys au Fillmore East, en multi-pistes.

- le travail en studio

15 janvier 1970 - Studios Juggy Sound, New York City - Session de mixage du Band Of Gypsys

- Juggy Sound, Studio d'enregistrement à New York. Les sessions de mixage de ce qui allait devenir Band of Gypsys se poursuivent à Juggy Sound, le centre de la ville de Manhattan, propriété du chef de
Sue Records, Juggy Murray.

Source: voir





16 janvier 1970 - Studios Juggy Sound, New York City - Jimi a commencé la soirée avec Eddie Kramer aux studios Juggy Sound. Les deux ont continué leurs efforts afin d'oeuvrer pour sortir un album
des quatre shows du Fillmore East.


16 janvier 1970 - Studios Record Plant, NYC - Enregistrements - Send My Love To Linda - Power Of Soul- Burning Desire




Au petit matin après avoir passé des heures pour le mixage, Hendrix est parti aux studios Record Plant pour retrouver des forces avec Billy Cox et Buddy Milles et pour une série d'enregistrements de
démonstration. Jimi a cédé à une ébauche de Send My Love To Linda qui a progressé dans une jam-session prolongée. De plus, douze prises ont été enregistrées de Paper Airplanes
(qui se développera en Power Of Soul) et cinq prises de Burning Desire. Les efforts de Jimi ont abouti à un croquis approximatif de «Send My Love To Linda», qui a ensuite progressé pour devenir
une jam très animée et prolongée.

17 janvier 1970 - Studios Record Plant, NYC - Enregistrements: Izabella

19 janvier 1970 - Studios Record Plant, NYC - Enregistrements: Burning Desire - Backwards Experiment

Juggy Sound, enregistrement studio à New York. Une fois de plus, Jimi a commencé la soirée avec Eddie Kramer mélangeant des candidats potentiels pour l'album live de Band Of Gypsys à Juggy Sound.
Ni Billy Cox ni Buddy Miles n'ont joué de rôle dans les décisions de mixage ou de piste de l'album. Hendrix étant le producteur, ces décisions lui étaient entièrement réservées.

Disque Record, New York Studio Enregistrement Expérience Burning Desire ardent. Au Record Plant avec Cox et Miles, Hendrix a consacré une partie de son temps à expérimenter les différents effets
de guitare rétrogrades. Cette session a également vu un travail supplémentaire sur « Burning Desire », mais avec peu de progrès notables vers l'achèvement d'une piste de base.

20 janvier 1970 - Studios Record Plant, NYC - Enregistrements: Message To Love -Stepping Stone - Earth Blues- Ezy Ryder



Les Ronettes que l'on entend chanter sur le titre Earth Blues, qui sera publié sur l'album posthume "Rainbow Bridge" en 1971.

21 janvier 1970 - Studios Record Plant, NYC - Enregistrements: Astro Man - Power of Soul - Valleys Of Neptune - Message To Love - Stepping Stone- Earth Blues-Ezy Ryder

21 janvier 1970 - Jimi participe à une jam-session avec Taj Mahal - dans son appartement de la 12ème rue de New York, 59 West.

22 janvier 1970 - - Studios Record Plant, NYC - Enregistrements: Sky Blues Today [Stepping Stone] - Izabella

23 janvier 1970 - - Studios Record Plant, NYC - Enregistrements: Country Blues, Once I Had A Woman, Blue Suede Shoes, Highway Of Desire Blues Jam, Seven Dollars in My Pocket, Astro Man Jam, Captain Coconut (MLK), Ezy Rider Jam

28 janvier 1970 - WINTER FESTIVAL FOR PEACE, MADISON SQUARE GARDEN







- Les bénéfices de la soirée sont versés au Vietnam Moratorium Committee. Le show est filmé.





Jimi joua Who Knows et Earth Blues, puis s'arrêta de jouer, le concert fut annulé en raison d'un problème physique dû sans doute à la prise d'un mauvais produit. Ce fut la dernière fois que l'on entendit le
Band Of Gypsys.

Source: https://jimihendrix.com/encyclopedia/

Billed as the "Winter Festival For Peace," Peter Yarrow (Peter, Paul & Mary) and Sid Bernstein, event producers, announced that their services would be donated and that all proceeds of the
event will go to the Vietnam Moratorium effort. The five-hour festival slated from 8 p.m. to 1 a.m. will feature Harry Belafonte; Blood, Sweat & Tears; Dave Brubeck; Richie Havens;
Mother Earth; Peter, Paul & Mary; The Rascals; The Cast of Hair; Judy Collins, and Jimi Hendrix & his Band Of Gypsys.
Suffering from exhaustion and the effects of a drink laced with an unknown substance taken before the show, Hendrix failed to execute his musical plans this evening. Having completed just
two songs, "Who Knows" and "Earth Blues" the only thing Hendrix could do at that point was drop his guitar and sit down on the stage, meanwhile Miles and Cox continue to roll through
the back beats. As Alfred Aronowitz later recalled in his New York Post column, "The crowd has already gotten twice its money's worth when Jimi Hendrix stopped playing in the middle of his
second number, said 'That's what happens when Earth *** with Space, never forget that, that's what happens.'" … "Jimi got up, put his guitar down and walked offstage."
"When he came off stage," explained Alan Douglas "he actually fell off the apron. At first I thought he was hurt, but he wasn't. I then ran backstage to the dressing room to see if in fact he
was okay. There he was sitting playing the guitar and smiling. I don't know what went through his mind when he was on stage, but the first thing I noticed, it looked like he was having a big
rhythm problem. I think he just got fed up."
Backstage, Jimi meets Johnny Winter. In recounting the meeting Winter explains,

"I saw Jimi backstage at the Madison Square Garden concert, the one where he just couldn't play. When I saw him, it have me chills. It was the most horrible thing I'd ever seen. He came in
with this entourage of people, and it was like he was already dead. He just walked in – and even though Jimi and I weren't the greatest of friends, we always talked, always – and he came in
with his head down, sat on the couch alone, and put his head in his hands. He didn't say a word to anybody, and no one spoke to him. He didn't move until it was time for the show. He really
wanted to do that gig, but he never should have. It wasn't that it was bad, but his whole thing was inspiration, and there wasn't any. It was just completely uninspired; finally, right in the
middle of a song, he just took his guitar off, sat on the stage – the band was still playing – and told the audience, "I'm sorry, we just can't get it together." One of his people said he was sick,
and lead him off stage. He was just so unhappy that there was no way that he could play the show. It didn't have anything to do with the group – he had already died!" I remember Cher
saying in an interview that she had met Jimi backstage before the event... and that he was "so sweet" and extremely shy and polite. She never mentioned anything about him being ill.
Réalisé par © MT [Toutes les images présentes sur ce site appartiennent à leurs auteurs et sont donc logiquement soumises à la loi du copyright. Malheureusement, je les ai récupérés en grande partie sur Internet et il m'est impossible de dire laquelle appartient à qui...
Donc si un des auteurs ou toute personne ayant des droits sur ces photos le désire, je supprimerais immédiatement les photos de ce site ... mais il faudrait reconnaître que ce serait plutôt dommage, non?]